ACTIVITIES DAY CHARITY FUNDRAISER
January 24, 2021 @ 9:45 am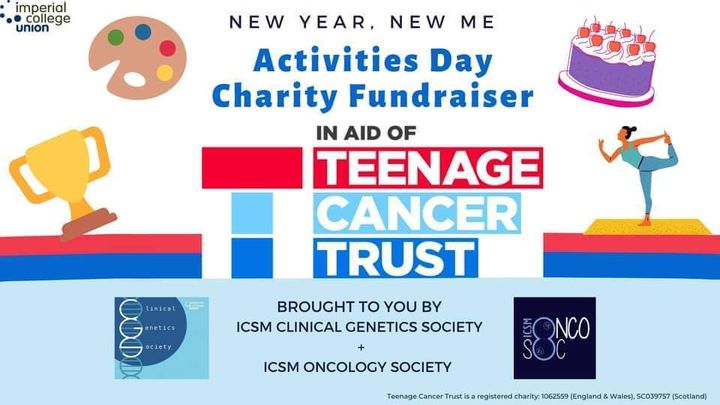 New Year, New Me? Want to pick up a new skill?
Imperial College London Clinical Genetics Society and Oncology society are delighted to come together again to raise money for charity! This time as we start the new year of 2021, we want to raise money for Teenage Cancer Trust.
Come and join us on a full day of fun activities!
TIMETABLE:
09:45 – 09:50 – Welcome and Introduction
09:50 – 10:50 – Meditation, Yoga and Mindfulness with Alisha (@lisha_selflove)
11:00 – 12:00 – Art with Alex (@artbyconway)
12:10 – 13:10 – Bollywood dancing with Annanya and Aarushi
13:10 – 14:30 – Lunch Break
14:30 – 15:00 – Baking Brownies with Aiyah (@aiyah_bakes)
15:10 – 15:40 – 'Take a trip down Memory Lane' Quiz – CHANCE TO WIN £20 AMAZON GIFT CARD
15:40 – 15:45 – Closing
All you need to do to attend is fill this form:
https://forms.office.com/Pages/ResponsePage.aspx?id=B3WJK4zudUWDC0-CZ8PTB7G5C19sC6pJnxDw8cDO5aRUQVVVM1o2TkE4NUJFQkNFRkIzTTI0TUVYMC4u
AND donate a minimum of £2 to our fundraising page:
https://www.justgiving.com/fundraising/imperial-college-clinical-genetics-society2
Please note: include your name when making the donation so we can cross reference with the register
For more information on the charity: https://www.teenagecancertrust.org
To take part in our baking competition, please sign up with the form below and provide a photo of your baked creation and the winner will be announced on Sunday 24th January!
https://forms.gle/9L8Ksrqh41cAhxPv7