We're your ICSM Students' Union (ICSMSU)!
All students within the Imperial College School of Medicine (ICSM) are automatically a member of our SU. 
This covers all MBBS, BMB and iBSc students within the Faculty of Medicine.
Ultimately, we're here to ensure your time at ICSM is as good as it can possibly be!  
We're elected to represent and advocate on your behalf to the Faculty, ICU, College, Move Imperial, external organisations and everybody else.
We're all students just like you!
Whereas most other medical schools have a 'MedSoc' or 'Association', we're the only one in the country to have our own fully dedicated Students' Union, and one of the very few to have a full time sabbatical President. 
We're led by a large 21–person committee made up of elected student volunteers, and even a full-time sabbatical President who takes a year out of their studies to ensure we're always on-hand if you ever need advice, and are always represented every single day of the entire year. 
We're set up into multiple streams to ensure we holistically cover all aspects of your student experience: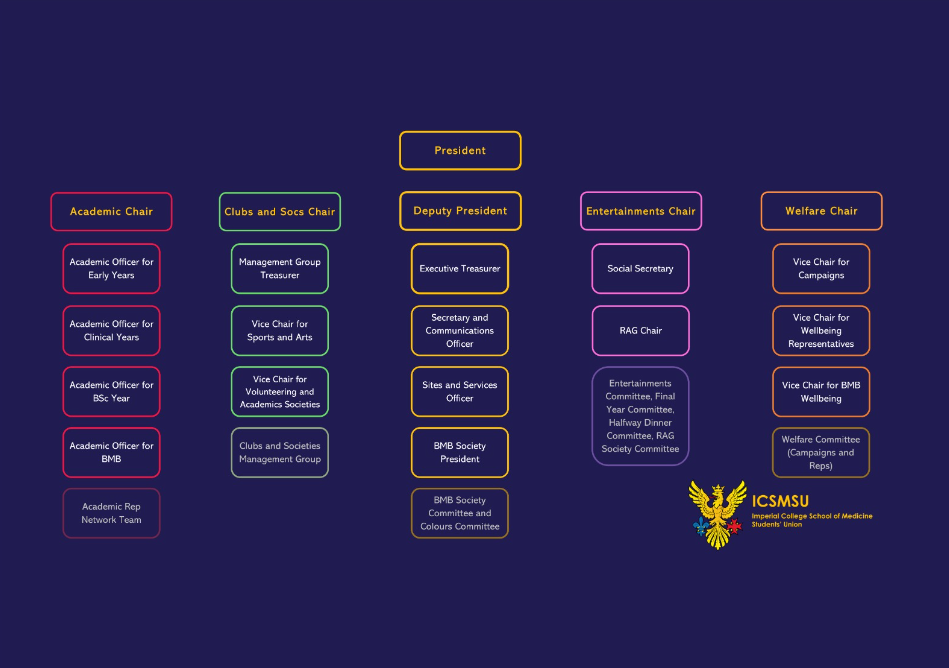 Our Academics team are our largest; our courses at ICSM are constantly changing and it's up to our Academics team to support your academic year reps to collect your feedback, consult on changes, and lobby the Faculty for improvements to the course. Their work is more important than ever with the continued rollout of the new curriculum, and the implementation of innovative technology and remote teaching across the board. And we also run free full-scale in-person mock exams for every clinical exam for every student! 
Our academics team is here to represent all our students, so get in touch with all your ideas, concerns, and expectations!
Our Clubs and Socs team is here to support and facilitate the successful running of our over 65 ICSMSU-dedicated Clubs and Societies! We have one of the most diverse range of Clubs and Societies covering Academics, Sports, Arts and Volunteering – there's something for everyone!
And best of all, you can also join any of the general Imperial College Union ones too, meaning there's over 380 in total to get involved in! 
From day-to-day queries, committee training, representing our societies to ICU or putting on our amazing sports, arts, and volunteering dinners to recognise the talent within ICSM, we're here to ensure the continued success of all our clubs and societies you know and love!
From bops to Finals  Week, to our milestone dinners like STFYD and Halfway Dinner, our Ents team puts the much-needed life into the ICSM work-life balance for everyone. At the start of the year, our Ents team also runs our Freshers' Fortnight – a 2 week bonanza of events for new students to engage and meet their cohort and embed themselves into University life!
Our Exec team are here to ensure the slick operational running of our SU, be it keeping our newsletter and website looking smooth, making sure we're supported financially, and that our sites, services and storage spaces are up to scratch.
As many of you will know, Medicine and BMB can be tough. Our welfare team are always on hand to signpost and make sure you're getting the support and advice you need. So please don't hesitate to get in touch! They'll also be running campaigns throughout the year to raise awareness of important issues that can impact our students, and supporting your wellbeing reps to better understand your views and advocate for change to the faculty. 
Our logo is known as the 'SU Phoenix', and it represents the coming together of our founding constituent bodies to form the Imperial College School of Medicine SU in 1997. It combines the Crown of Westminster Hospital medical school, the Maltese Cross of Charing Cross Hospital medical school, and the fleur-de-lis of St Mary's Hospital medical school, joined together by a majestic phoenix rising from the ashes, symbolising the creation of the new Imperial College School of Medicine SU from its constituent bodies.