Period Dignity talk
January 21, 2021 @ 6:30 pm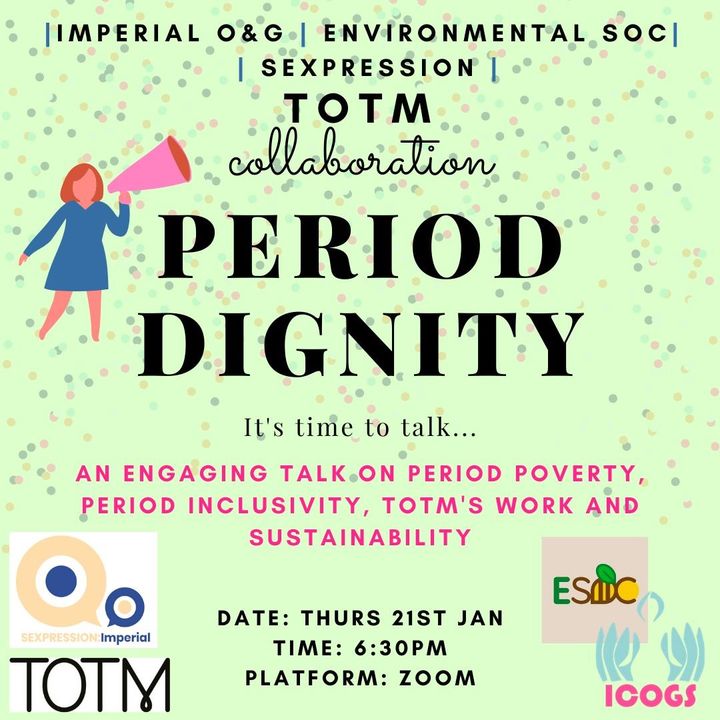 Menstruation is experienced by approximately 50% of the world's population. Yet, 1 in 10 girls in the UK struggles to afford menstrual products. With the rise of the COVID-19 pandemic, the number of individuals who suffer from period poverty in the UK has only increased. The financial stress incurred by COVID-19 has led to three in five university students considering dropping out.
Lack of access to period products isn't only a problem for people who cannot afford them, but also people who do not identify as women. Not all women menstruate and not all people who menstruate are women.
The obvious solution appears to be providing free single use period products to all menstruators, as they are cheaper than reusable products. However, single use period products is the fourth most polluting industry in the world. These products are also made up of plastics and cotton, which are both taxing to the environment.
Period dignity is about shining the light on the right to sustainable period products for all menstruators. It is about opening up the conversation and breaking down outdated preconceptions and barriers.
Join Imperial College Obstetrics and Gynaecology Society, Sexpression Imperial and Imperial Environmental Society in a collaborative online event on Thursday, 21 Jan 2021, at 6:30 PM UKT. We will be welcoming spokesperson Nancy from ToTM, who will be leading the talk. The event will be hosted on Zoom.
Sign up to the event here:
https://tinyurl.com/y273shnk
Do you want Imperial to provide free period products?
Sign the petition here: https://www.change.org/p/free-period-products-at-imperial-college-london